Photo Slideshow Maker Professional with 40% Discount OFF
Photo Slideshow Maker Professional is an easy-to-use but powerful tool for making gorgeous flash slideshow and HTML5 slideshows from your photos, music clips. It provides 300+ well-designed slideshow templates in all kinds of themes such as Web Album, Wedding, Sports, Festivals, Birthday, etc. and 60+ stylish transition effects to make your images and photos dynamic into life. Editing photos, templates, background color, etc. are also enabled. Now, get the program at 70% Discount OFF at only $14.95!

Features
1. Create slideshow easily like a Pro
- User-friendly interface offers you handy controls.
- One-click-for-all shortcuts allowing batch applying.
- Drag-and-drop adding method which helps to make a slideshow within seconds.
- Auto generated embedding code in the html file, which maker inserting slideshow just a copy-and-paste work.
2. More possibility in creating
- Add whatever you like: JPG, TIFF, BMP, PNG, etc. MP3, WMA, WAV songs, and sound tracks music; hyperlink, description, background images and more... If you want to add videos, you may refer to Photo Slideshow Maker Platinum version.
- 60+ stylish transition effects; 300+ well-designed templates divided into 5 categories
- Either Object embed tag or JavaScript SWFobject tag.
3. Complete customizing options
- Customzing slideshow with width, height, border color, background color, thumbnail size...
- Personalizing your own background image, photo frame, show/hide controls, show/hide thumnails, customize controls position, preloader.
- Enable auto-playback and repeat mode, full screen mode, random playing mode.
4. Make your own template
- Built-in Template Editor which enables to create stunning template with background, controls, thumbnails and more.
- Providing .fla files for downloading & further editing.
- Importing self-made flash components and template; Customizing self-made template with options in program.
5. Publish slideshow just about anywhere
- Saving on computer drive; - Sending to people by email; - Burn gift CD/DVD; - Upload to your own website; - Upload to our free web album Go2album, then use Go2album embed code to embed slideshow to MySpace, Blogger and many other social websites and blogs.
Reward by Expert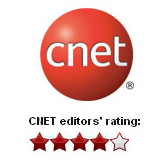 Photo DVD Maker was awarded with 4-star rating by CNET editor.
"Photo DVD Maker is a wonderful program...Its simple operation and excellent results make this a program we highly recommend."
Trust by Millions
Your programs are great. They have made a lot of people very happy.
- Robert W. Ratterree Sr.
I have been using this version with great satisfaction.
- Dale Saunders
You have a fantastic product and I have been a user for about 6 years, and am extremely happy with the base product and all the enhancements that have occurred.
- Dave Hege
Recommendations