Best Songs for Wedding Slideshow
A wedding slideshow has become a popular and indispensable element of today's wedding celebration. As a big day for the couple, you must have taken many photos to save the memoriable and unforgettable time. Although making a wedding slideshow is amazingly easy with up-to-date wedding slidehsow software, the difficult thing is that it is not easy to choose suitable songs for the wedding slideshow.
Stage One (friend): My friend's wedding ceremony was held on last Sunday, I have taken lots of her wedding photos and now I would like to make these photos into a slideshow as a gift for my friends. But I don't know what kind of wedding slideshow music to add.
Stage Two (bride): I feel so excited, today I am going to be his bride and we will live happy together. I want to make a wedding slideshow for my groom to show him my love. Any good ideas about the wedding slideshow song for groom?
Stage Three (groom): I must be the happiest man in the world. Nobody can replace my lovely bride, I want to make a warm wedding slideshow for her to record the days we met first time, fall in love with each other and so on. I now have plenty of photos, but don't know which wedding slideshow music for bride is the most suitable one to play.
In this circumstance, we introduce you good songs ideas for wedding slideshow to meet your requirements on making wedding slideshow for friends, bride or groom.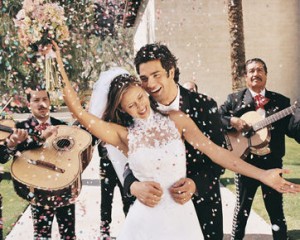 Wedding Slideshow Song Ideas- For Bride & Groom / Wedding Couple
| | |
| --- | --- |
| "Better Together" - Jack Johnson | "All You Need is Love" - The Beatles |
| "From This Moment On" - Frank Sinatra | "Cherish" - Kool and the Gang |
| "Could Not Ask for More" - Edwin McCain | "Forever and for Always" - Shania Twain |
| "Heaven" - Bryan Adams | "I'll Be" - Edwin McCain |
| "A Moment Like This " - Kelly Clarkson | "Only You" - Celine Dion |
Wedding Slideshow Songs for Bride Ideas - For Bride
| | |
| --- | --- |
| "Brown-Eyed Girl" - Van Morrison | "Happy Girl" - Martina McBride |
| "She's a Lady" - Tom Jones | "Born to Be My Baby" - Bon Jovi |
| "She's Got a Way" - Billy Joel | "Uptown Girl" - Billy Joel |
| "I Think About You" - Collin Raye | "You Are So Beautiful" - Joe Cocker |
| "Caught Up in You" - 38 Special | "This One's For the Girls" - Martina McBride |
Wedding Slideshow Songs for Groom Ideas - For Groom
| | |
| --- | --- |
| "Best Day of My Life" - George Strait | "Beautiful Boy" - Celine Dion |
| "Sunrise, Sunset" -Louis Armstrong | "100 Years" - Five For Fighting |
| "Crazy for You" - Madonna | "My Guy" - Mary Wells |
| "Back When" - Tim McGraw | "Baby Baby" - Amy Grant |
| "Then They Do" - Trace Adkins | "Lets Hear It For The Boy" - Deniece Williams |

No matter you wanna make wedding slideshow for your friend or create gift wedding slideshow for your dear groom or bride, the above suggested songs are good ideas for generating wonderful wedding slideshows.