Upload Slideshow to Youtube with Photo and Music for Sharing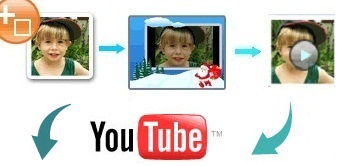 It is very interesting and meaningful to make a slideshow with photos and music, no matter it is on friendship, festerval celebration, travelling experience or other unforgettable occassions. The slide show brings us fun and always reminds us of those memorable days. If you want to share these slideshows to your friends and other users, uploading slideshow to Youtube website is a really good choice.
YouTube is a video-sharing website on which users can upload, share, and view videos. It is one of the most popular video-sharing websites picked by users all over the world. You can enjoy others' video work or share your videos with so many Internet users. Want to get as much as attractions on your created slideshow by millons of people? It is surely possible, but you have to upload your slideshow to Youtube first. To make a slideshow with your desired photos and music and upload it to Youtube site, you can leave the work to Photo DVD Maker, which, is a professional slidesow maker for Youtube.
With Photo DVD Maker, the so-called slideshow maker for Youtube, you can create gorgeous photo flash slideshows with stunning effects and then insert the generated photos slideshow with music as video file to YouTube website. Here is a step-to-step tutorial on helping you make a slideshow for Youtube and share video slide show to others easily.
Only Three Steps to Make Youtube Slideshow Videos
Preparation: Your digital photos; Your favorite music (Optional, as backgroud music for video slideshow); Slideshow maker for Youtube (Photo DVD Maker is highly recommended); YouTube ID; Connected Internet
Step 1. Make Video slideshow With Photos and Music with Photo DVD Maker
Photo DVD Maker supports JPEG, TIFF, PNG, and BMP image formats.
Supported music formats for video slideshows: MP3, WMA, WAV, Sound tracks from CDs, Voice narrations & recordings.
There are plenty of beautifully-designed Menu Templates for you to choose. Select the one that can better showcase your photos. You can add transition effects and music to the photo slideshows.
Step 2. Click the Burn Disc Tab and Choose YouTube Uploadable Movie as the Output Format
When you proceed to publish the photo music slideshow, please go to the Burn Disc tab and choose the " YouTube Uploadable Movie " option, and then click "Create Now" button to export the slideshow in YouTube video format.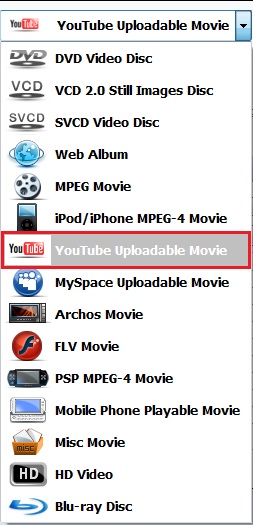 Step 3. Log in Your YouTube Account and upload the slideshow video
Step I: Log in your Youtube account (If you don't have it, just register one, it is free.)
Step II: Upload your Video from Your Computer -- After you register in YouTube.com, please click Upload Button, and then upload your slideshows from your computer into YouTube website.

Note: 1. Please make sure the slideshow movie is created with "YouTube Uploadable Movie" output format.
2. Please note YouTube has limits on uploading videos. The file size of the video shall not be larger than 1024MB, and the maximum length shall be limited to 10 minutes.
3. Please keep the youtube video slideshow movie within 10 minute and 1024MB limit.
Promote Your Youtube Slide Show and Get Fun
By following the steps introduced above, you can easily make video slideshows for video-sharing websites and upload these slide shows to Youtube for sharing. All these can be done by Photo DVD Maker. However, if you want to make your video slideshow to get more clicks and to be popular on Youtube, you need to promote it by some methods such as introduce your slideshow to friends, name the youtube slide show properly, leave links to your social network and so on.